The Gleeble Induction Heating System (IHS) provides an alternative heating method to increase testing flexibility

Gleeble systems have historically relied on direct resistance heating to provide extremely fast, uniform and responsive heating. While this method offers considerable advantages over other heating techniques, there are cases where induction heating is preferred. For customers looking to heat via induction, DSI now offers the Gleeble Induction Heating System. (IHS) Developed in partnership with a leading supplier in the induction heating industry, the Gleeble IHS is fully integrated with the Gleeble and allows the user to select either induction or resistance heating for each test. The IHS requires water cooling, utilizes the existing Gleeble cooling loop and is powered directly from the Gleeble load unit.
Induction heating is well suited for use in uniaxial compression testing (flow stress) where it can provide a uniform temperature across the specimen from anvil to anvil. Induction heating can also be used in tensile testing, heat treating applications and plane strain compression testing.
The full capability of the high speed Gleeble direct resistance heating system is still maintained, allowing heating rates up to 10,000ºC/second when using direct resistance heating. The two heating systems are both integrated to work on the Gleeble and software can be used to select which heating system is used in each test.


Benefits of Induction Heating:
Useful for bi-metallic, non-symmetrical and unique specimens (custom coil designs may be required)
Compression Testing: Anvil Flexibility

Anvils can be used that are non-thermally conductive to maximize temperature uniformity throughout a specimen
Additionally, non-electrically conductive anvils and lubricants can be used

More control and flexibility of heating locations on the specimen
Magnetic concentrators allow users to direct magnetic fields and energy in the specimen for efficient heating
Various coils can be used depending on test types and specimen sizes.
Adjustability - Induction coils can be adjusted along 3 axis to direct heating locations and make it easier to set up new coils
Atmosphere: Test in air, vacuum or inert gas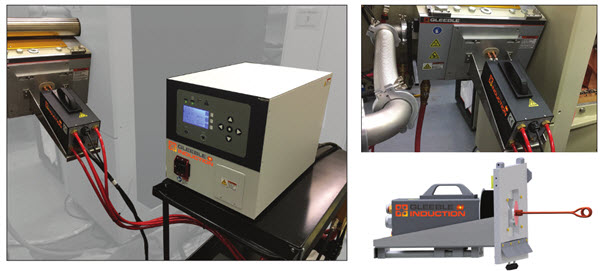 Scope of Supply:
Induction Power Supply
Workhead Unit: - Vacuum-rated, rear-mounted and water cooled with adjustable connections for various induction coil options
Custom rear tank door and Workhead Unit mounting bracket
One Induction heating coil for testing specimens and one large induction coil for calibration
Cooling system integration components
Electrical and safety connections
Additional coil geometries are available to facilitate different types of Gleeble testing
Additional anvil materials are available to conduct flow stress and plane strain simulations
Notes:
Heating / cooling rates vary depending on sample size and material. Specimens can be quenched using
air, water, mist, or inert gas. An all-new quench spray system has been designed to improve cooling.
Temperature measurement utilizes the same thermocouples as the traditional Gleeble direct resistance heating system
Compatible with Gleeble 3500 and 3800 systems, including the General Purpose and Hydrawedge Mobile Conversion Units as well as the Compression Test Adapter Set
The IHS requires the latest Gleeble hardware and software be installed, including the Gleeble Touch Control (GTC) system
For additional information and customization options,
please contact us at info@gleeble.com or +1 (518) 283-5350.