Gleeble 563: TMS System
Thermal Mechanical Simulation (TMS) for Metallurgy Research
The Gleeble 563 is an all-new research tool optimized for performance, versatility and value. As the most capable member of the Gleeble 500 Series, the Gleeble 563 is tailored to provide a compact, economical solution for researchers while retaining the world-class capabilities that have made Gleeble systems the industry standard.
---
What is Physical Simulation?

Physical simulation is the exact reproduction of the thermal and mechanical processes in the laboratory that a material is subjected to during the manufacturing process or end use. Physical simulation is a valuable tool used to study metallurgical processes, develop new materials and replicate real world conditions in the laboratory.

Lower Costs - Reduce product development, processing & energy costs
Optimize Manufacturing Processes - Develop new procedures & troubleshoot existing processes
Optimize Materials - Develop new materials and applications
Increase Production - Reduce scrap and maximize output and efficiency
Faster Product Development - Reduce time to market and R&D expense
Improved Product Quality - Improve product consistency and quality
| | |
| --- | --- |
| | Direct resistance heating provides rapid and precise temperature control, creating the desired thermal profile for a wide range of tests and simulations. |
| | The Gleeble 563 combines impressive thermal performance with both Tension and Compression capabilities. Compression anvils of various sizes and shapes can be used for deformation studies. |
Small Gleeble . . . Big Impact
While the Gleeble 563 is an economical and compact system requiring a minimal investment, it is packed with capabilities and able to provide a wide range of testing and process simulations.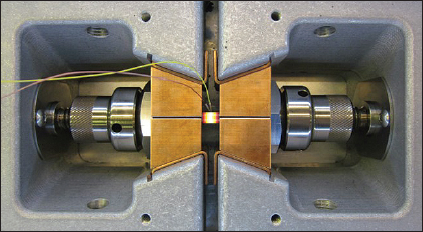 Water-cooled jaws contribute to very fast cooling rates and enable researchers to simulate steep thermal gradients found in welding applications. Additional grip models are available to support uniform hot zone and other requirements.
Features Include:
• High-speed, direct resistance heating rates up to 10,000°C/second
• Controlled cooling or accelerated cooling with optional quench (air/gas/water/mist)
• Simulation of multiple applications, processes and materials
• Ability to test in vacuum, air or inert gas (rough vacuum and diffusion pumps available)
• User-friendly and easy to use controls and software
• Quiet operation and easy installation in a small laboratory footprint
Materials Testing Capabilities of the Gleeble 563:
• Hot ductility and hot tensile testing on a wide variety of specimen geometries
• Hot compression testing, including uniaxial and plane strain studies
• Stress relaxation
• Strain Induced Crack Opening (SICO)
• Stress vs strain curves
• Melting and solidification
• Nil-strength testing
• Thermal cycling/heat treatment
• Weld HAZ simulations
• Charpy specimen heat treatment
• Study of local brittle zones
• Embrittlement and crack susceptibility
• Liquid metal embrittlement
• Welding/HAZ phase transformation studies
• Creep/stress rupture
• Phase transformations studies, including CCT/TTT curve development with and without deformation
• Low cycle thermal-mechanical fatigue



The vacuum tank of the Gleeble 563 Thermal-Mechanical Simulation (TMS) contains a water-cooled jaw carrier
which delivers electric current to copper grips, enabling very fast heating and cooling of specimens.
Mechanical Specifications:
The Gleeble 563 TMS System offers a high speed mechanical system with unmatched performance in its class. The innovative hydraulic system results in a servo system capable of 200 millimeters per second stroke rate with precise control and measurement accuracy.
| | |
| --- | --- |
| Mechanical System | Horizontal frame, closed-loop hydraulic control |
| Maximum Dynamic Force | 30 kN (~3000kgf, ~3 Tons) |
| Maximum Stroke Rate | 200 mm/second in tension or compression (with no load) |
| Minimum Stroke Rate | 0.01 mm/second in tension or compression |
Thermal Specifications:
The Gleeble 563 TMS System offers a high speed thermal system with heating rates up to 10,000°C/second. The ability to reproduce a wide variety of thermal profiles and gradients that materials undergo in actual processes is critical to the success of physical simulation. The Gleeble 563 Thermal-Mechanical Simulation (TMS) accomplishes this by offering both high heating rates and high cooling rates with a variety of specimen types and materials.
Heating System

Direct resistance with closed-loop control

Temperature Controller

Digital closed-loop control using 18 bit analog-to-digital converter and 32 bit control processor
Controller response rate: 10,000°C/second
Resolution: One degree (C or F)
Up to 8 Thermocouple channels (2 channels supplied standard)

Temperature Measurement

A variety of thermocouple types are available depending on the material being tested and the desired temperature range. Thermocouple types include:

Type K Type S Type R Type B Type E Type J

Temperature Range

Room Temperature to 1700°C (Based on choice of thermocouples)

Maximum Heating Rate

Heating rates up to 10,000°C/second (6 mm diameter specimen)
Heating rates are dependent on sample size and material conductivity

Controlled Cooling Rates

Controlled cooling rates of up to 200°C/second from 800°C to 500°C for a 10 mm plain carbon steel bar with 10 mm free span reduced to 6 mm diameter for 6 mm long at midspan

Maximum Quench Rates

More than 10,000°C/second at 550°C at the specimen surface for 1 mm thick x 10 mm wide sheet of plain carbon steel with 25 mm free span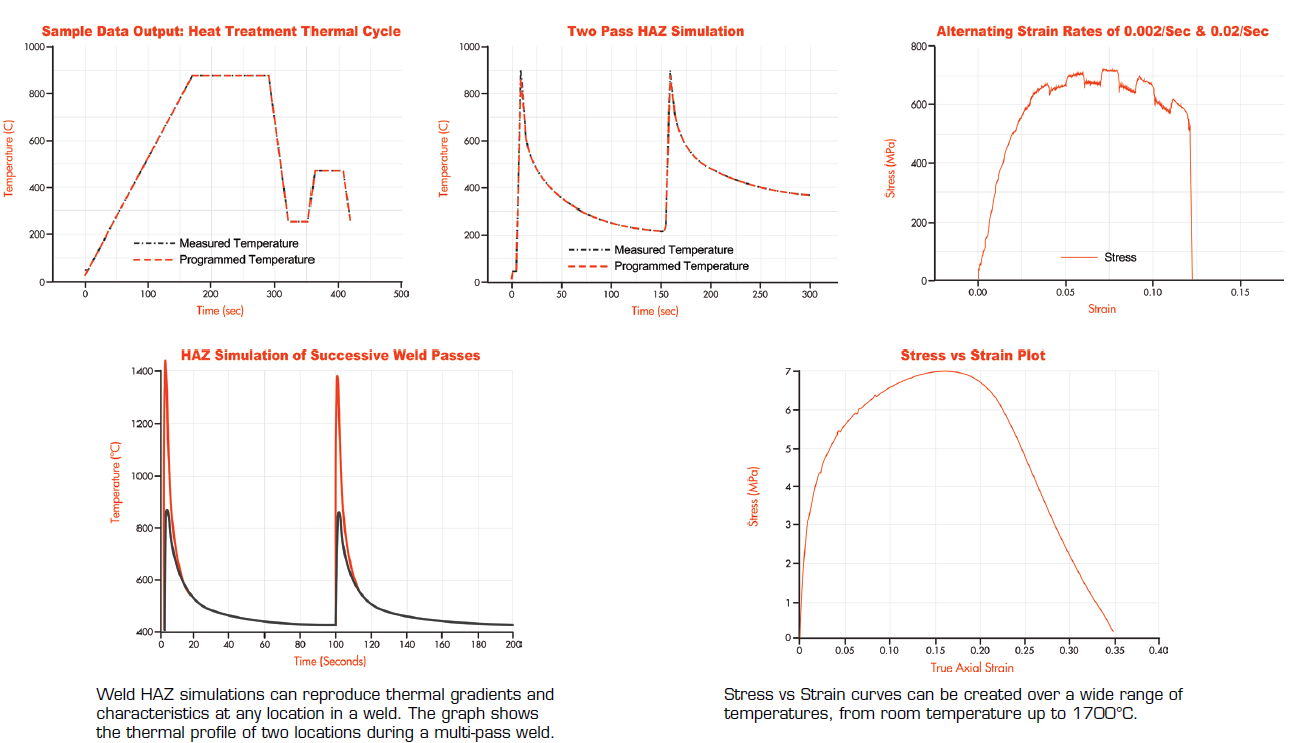 More Information:
For more information about how Gleeble Systems can help you and your team solve material and processing challenges, please contact a member of our team at info@gleeble.com or +1 (518) 283-5350. In the meantime, please download a copy of our electronic brochure by clicking here.