Gleeble 3180-GTC

The Gleeble 3180 provides a physical simulation system for researchers who require the quality and accuracy of a Gleeble system on an affordable scale.The Gleeble 3180 is ideal for weld HAZ simulations, hot tensile tests, thermal cycles,heat treatment studies, uni-axial compression and low force tests.
The Gleeble 3180 is a flexible thermal-mechanical physical simulation system which can be configured for the following applications: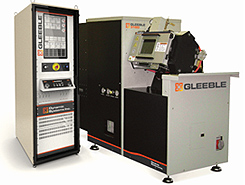 Click here to download the 3180-GTC Brochure
Click here to download the Gleeble Solutions Guide
---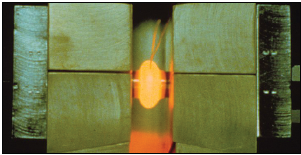 Thermal Cycles and Heat Treatments:
Many different grips are available to support uniform temperature zones and a variety of specimen configurations. Other grips can be used to provide thermal gradients in the specimen for weld HAZ and process simulation.
---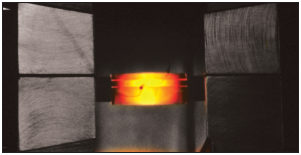 Melting and Solidification: Melting and controlled solidification can be performed in-situ. Thermal and mechanical testing of the as-cast structure can then be performed to identify cast structure properties and ductility dip regions.
---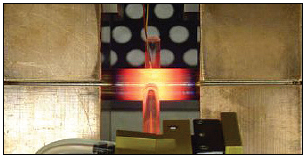 Strain Induced Crack Opening (SICO)
Procedure: The SICO procedure is a quick and cost-effective method for thermomechanical process optimization in forging and forming operations.
• Weld HAZ simulation
• Melting and solidification
• Heat treatment
• Hot tensile tests
• CCT and CHT with deformation
• Continuous casting simulation
At the heart of the 3180 are the features for which Gleeble systems are internationally renowned: a closed-loop direct resistance heating system, a closed-loop servo mechanical system, and a Windows® based digital computer control and data acquisition system.
Deformation Dilatometry: The 3180 can be equipped to perform CCT work including CCT after deformation.
Weld HAZ Cycles can be accurately replicated and analyzed to test material weldability and to improve welding procedures.

Key Performance Specifications:
Force

Maximum Compressive Force

8 Metric Tons

Maximum Tensile Force

8 Metric Tons

Stroke

Maximum Stroke Distance

100 mm

Maximum Stroke Rate

1000 mm/sec

Minimum Stroke Rate

.01 mm/sec
Temperature
Control

Maximum Temperature

1700ºC

Maximum Heating Rate

8000

Maximum Quenching Rate

10000ºC /sec

Maximum Specimen Size

12 mm dia
More Information:
For more information about how Gleeble Systems can help you and your team solve material and processing challenges, please contact a member of our team at info@gleeble.com or +1 (518) 283-5350. In the meantime, please download a copy of our electronic brochure by clicking here.