Gleeble 525:
Strip Annealing Simulator
A Dedicated Simulation System for Optimizing Continuous Annealing, Galvanizing and Coating Lines
The Gleeble 525 Strip Annealing Simulator is a low-cost system built specifically for simulating thermal cycles in sheet specimens, including continuous annealing line, batch annealing, Quenching and Tempering (Q+T), Quenching and Partitioning (Q+P) and other heat treatment processes.

The Gleeble 525 is designed to be used on the production floor or in a research lab. The easy to use system can quickly run tests and simulations on wide specimens to help researchers make better processing decisions.

Gleeble technology makes it easy to reproduce real-world annealing thermal cycles on steel sheet or strip materials. Unlike expensive mill trials, simulations help staff quickly and efficiently optimize annealing procedures to improve profitability, increase production, and reduce waste by quickly providing the information needed to make better processing decisions


---
Build More Efficient Line Schedules

Simulation data helps line metallurgists reduce the number of expensive mill trials and provides insight to more efficiently schedule different grades, gauges and specifications. The Gleeble 525 can rapidly and dynamically heat and quench sheet specimens to accurately simulate annealing, galvanizing, and coating line processing. The system can be used to reproduce and evaluate existing processes, experiment with process modifications, or troubleshoot problems.

Better understand the time/temperature relationship of materials, and processing windows
Improve product quality - Simulations help optimize material properties and meet the high demands of AHSS
Minimize scrap at transitions and warmer coils and reduce secondary coils and test coils
Accelerate new product development
Improve efficiency by defining process windows to allow better transitions
Develop annealing cycles to meet specification and salvage off-chemistry or misprocessed coils
Adjust processing settings for different alloys and gradesprove product consistency and quality

DSI Strip Annealing Systems Offer the Following Capabilities:

Ultra-Fast Heating - All Gleeble strip annealing systems utilize the same ultra-fast direct resistance heating that has made Gleeble systems a staple at the world's leading metals producers.
Proportional Quench - A dynamic cooling system with custom gas- quench spray heads that allows fast yet controlled cooling.
Complex Thermal Cycles - Users can easily program complex temperature profiles, including heating, holding, controlled cooling, reheating and quenching. This allows for accurate simulation of production line processes.
Large Uniform Temperature Zones - Great care has been taken to maximize temperature uniformity in the test specimen, allowing for simulations that are more representative of production processes, resulting in a more representative post-treatment material condition.
Environmental control - Specimens can be tested in vacuum, air or inert gas.
Tension Application - Tension can be applied to the specimen to prevent buckling and to simulate roll tension forces.
The Gleeble 525 includes a proportional quench system which dynamically cools the specimen using a custom-designed quench spray head. The quench system utilizes a gas supply such as nitrogen, argon, or compressed air. Heating and Cooling rates during a Gleeble 525 test are shown below: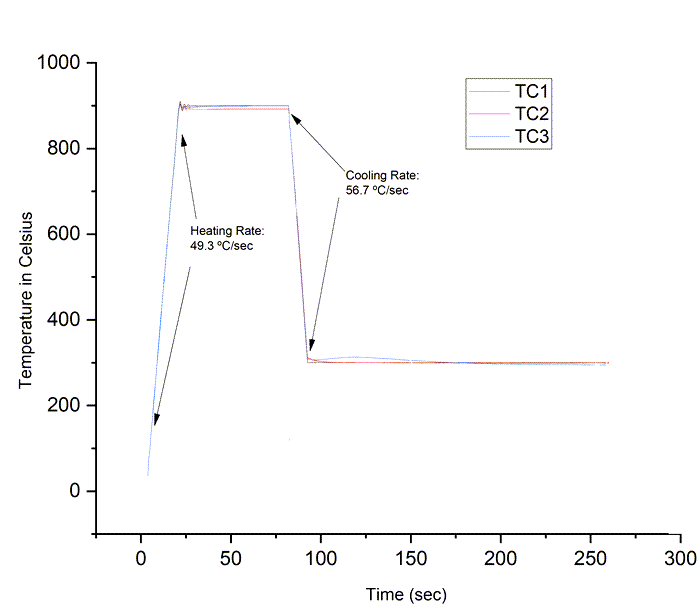 Thermal uniformity within the specimen, the difference from the center measurement to the edge measurement is verified by measuring specimen temperature with thermocouples secured onto the specimen.

More Information:
For more information about how Gleeble Systems can help you and your team solve material and processing challenges, please contact a member of our team at info@gleeble.com or +1 (518) 283-5350.