MCU Hydraulic Crosshead Locks
Say Goodbye to Superbolts. Spend less time switching MCUs and more time running tests.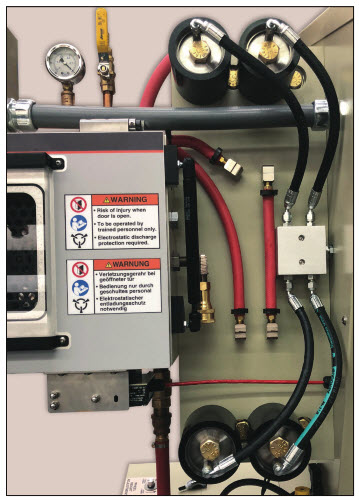 Mobile Conversion Units (MCUs) can be rolled off of the Gleeble Load Unit and replaced with another MCU to offer application specific capabilities. This flexibility allows one Gleeble system to support many different types of testing, including tension, compression, torsion, multi-axis deformation, strip annealing, etc.

This flexibility allows organizations to invest in one platform that can support many applications. However, this versatility comes at a price. Due to the high forces and speeds that Gleebles are capable of, the connection between a Gleeble Load Unit and MCU requires extreme force to ensure rigidity and minimize compliance.

Over the years, we have heard from customers that switching MCUs can take several hours or even most of a day if users are unfamiliar with the process. One of the most time consuming steps in switching MCUs is loosening and tightening the numerous Superbolts that secure the MCU to the Load Unit.

Our team has taken this feedback to heart and we are happy to announce the availability of a new hydraulic crosshead locking system that eliminates the need for superbolts and jack screws.

While much simpler to use and much faster, the new hydraulic locks maintain optimal performance and system stiffness. The system greatly reduce the time required to switch MCUs so Gleeble users can be more productive and spend more time running tests, and less time configuring equipment.

Crosshead locks automatically engage when the Gleeble is powered on, ensuring a secure connection between the MCU and Gleeble load unit. The locks include multiple clamps which are powered by an independent hydraulic system installed in the Gleeble load unit and does not diminish hydraulic power to the main Gleeble unit.




The Hydraulic Crosshead Locking System is available as an option on new Gleeble systems or as a retrofit for most existing Gleeble 3500 and 3800 systems. The system requires installation by a Certified Systems Service Engineer. The Hydraulic Power Pack is permanently incorporated into the Load Unit with dedicated clamps installed on each MCU. Hydraulic quick-connect fittings allow for an easy MCU hook-up to the load unit. The number of clamps varies based on the type of MCU.