Gleeble Welding Group Workshop and Meeting




You are invited to join fellow Gleeble users at the 2013 Gleeble Welding Group Workshop and Meeting.
Location: INSA Lyon, France
Dates: April 15th-16th, 2013.
Event Website: http://www.insavalor.fr/GWPS2013/Accueil.html

Main objective:
Share experiences and scientific results of Gleeble systems to understand microstructure and mechanical properties of welds.

Topics:
> Any welding process: fusion processes (arc, resistance, laser..) or solid state (friction stir,…)
> Metallic materials: steels, aluminum alloys, titanium, nickel, magnesium, copper, etc
> Homogeneous or heterogeneous joining
> Discussion of research, scientific results as well as new techniques and simulation procedures, including challenges and solutions encountered during Gleeble experiments.

Who will attend?
• Colleagues working actively with any Gleeble system to simulate welding processes
• Groups working in the area of welding processes which are currently conducting Gleeble simulations or are considering purchasing a Gleeble system
• All who need Gleeble experiments for model validation and welding process optimization

Scientific committee
Damien Fabrègue, MATEIS, INSA Lyon, France
Sylvain Dancette, MATEIS, INSA Lyon, France

Registration dead line and fees
01-02-2013 Presentation (title and short abstract)
28-02-2013 confirmation

All attendees are invited to join in a dinner sponsored by Dynamic Systems.

For more information, or to register please visit the event website by clicking here.

How to get to INSA Lyon: By airplane from Lyon Saint Exupery airport (regular flights from a lot of European major cities and from Paris). Then taxi or tram (30minutes to Lyon Part Dieu station and then 15 minutes to the campus).
By TGV from Paris to Lyon Part Dieu (2h) and then by tram (15min)

3rd Meeting of the European Gleeble Working Group

Date: March 19th, 2013
Location: Institute of Metal Forming, TU Bergakademie Freiberg, Germany

The EU Gleeble Working Group was founded in 2007 in Freiberg with the aim of achieving information exchange between Gleeble operators. The 2013 meeting will focus on deformation and hot working of materials.

Topics Include:
‐ Material properties and the influence of boundary conditions on its significance
‐ Optimization of the control software for testing with high strain rate
‐ Development of control and evaluation software for MaxStrain® tests
‐ Development of new software based on Windows

The meeting will take place the day before the international conference MEFORM which will also be held at TU Bergakademie Freiberg.

For more information, please contact:

Dipl.-Ing. Kristin Butze (Birkner)
+ 49 3731 39 2495
This email address is being protected from spambots. You need JavaScript enabled to view it.

or:

Dipl.‐Ing. Grzegorz Korpala
+ 49 3731 39 4404
This email address is being protected from spambots. You need JavaScript enabled to view it. ‐freiberg.de

Institut für Metallformung
TU Bergakademie Freiberg
Bernhard‐von‐Cotta‐Str. 4
D‐09596 Freiberg
Asia Steel International Conference 2012 (Asia Steel 2012) will be held September 24 – 26, 2012 in Beijing, China, which is a continuation of past Asia Steel International Conferences in China (2000), India (2003), Japan (2006) and Korea (2009).

After being announced in the First Circular, the Conference has received more than 500 abstracts from 27 countries and regions all over the world. The exhibition and workshop preparations have also started and received a warm response.
You can learn more about the Asia Steel International Conference on the official website located at: www.asiasteel2012.com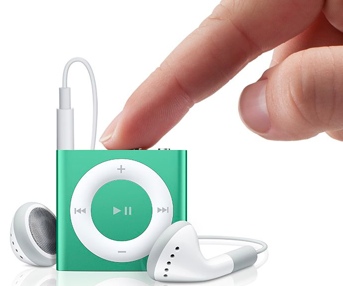 Gleeble Photo and Video Contest - Enter to Win an iPod Shuffle!

Lets do it again! Thank you to those of you that submitted photos in our first photo and video contest. It was so much fun, we decided to run another contest that will run through the end of 2012.
Who doesn't love a good thermal mechanical physical simulation themed picture? We here at DSI certainly love them, and we want to see yours. In fact, we're offering prizes for the best picture and/or video featuring simulations on a Gleeble.

Contest Details:
> First Prize will be an iPod Shuffle, Second and Third place prizes are a surprise.

> You can submit pictures and/or videos, with a maximum of 5 submissions per user

> Pictures/videos should feature Gleeble tests/simulations. This includes tests using the General Purpose Jaws and any of the Mobile Conversion Units.

> You can enter the contest by either posting your videos and pictures in the Gleeble Forums (preferred) or if you would rather, you can upload them by using the "File Upload" tool. (Click on the main menu item titled "Parts, Service & Support", then click "File Upload") If you submit your files using the File Upload tool, please be sure to include your name and contact information in the Optional Message area.

> When submitting a video, please include a short description of the test you are running and any other information that you think will be helpful or interesting.

> The deadline for submission is Midnight on December 31, 2012. (EST)

> Please be sure that you post pictures and videos that can be publicly shared. All submissions must comply with our Terms and Conditions. DSI reserves the right to use submissions for training and promotional purposes.

Judging criteria: We are looking for pictures and videos that are aesthetic and interesting, but also capture the capabilities of Gleeble Systems. Tests should be set up as accurately as possible with particular attention to thermal gradients and specimen alignment. Lighting, and image/video quality are also important.

Good luck! We look forward to seeing your pictures and videos.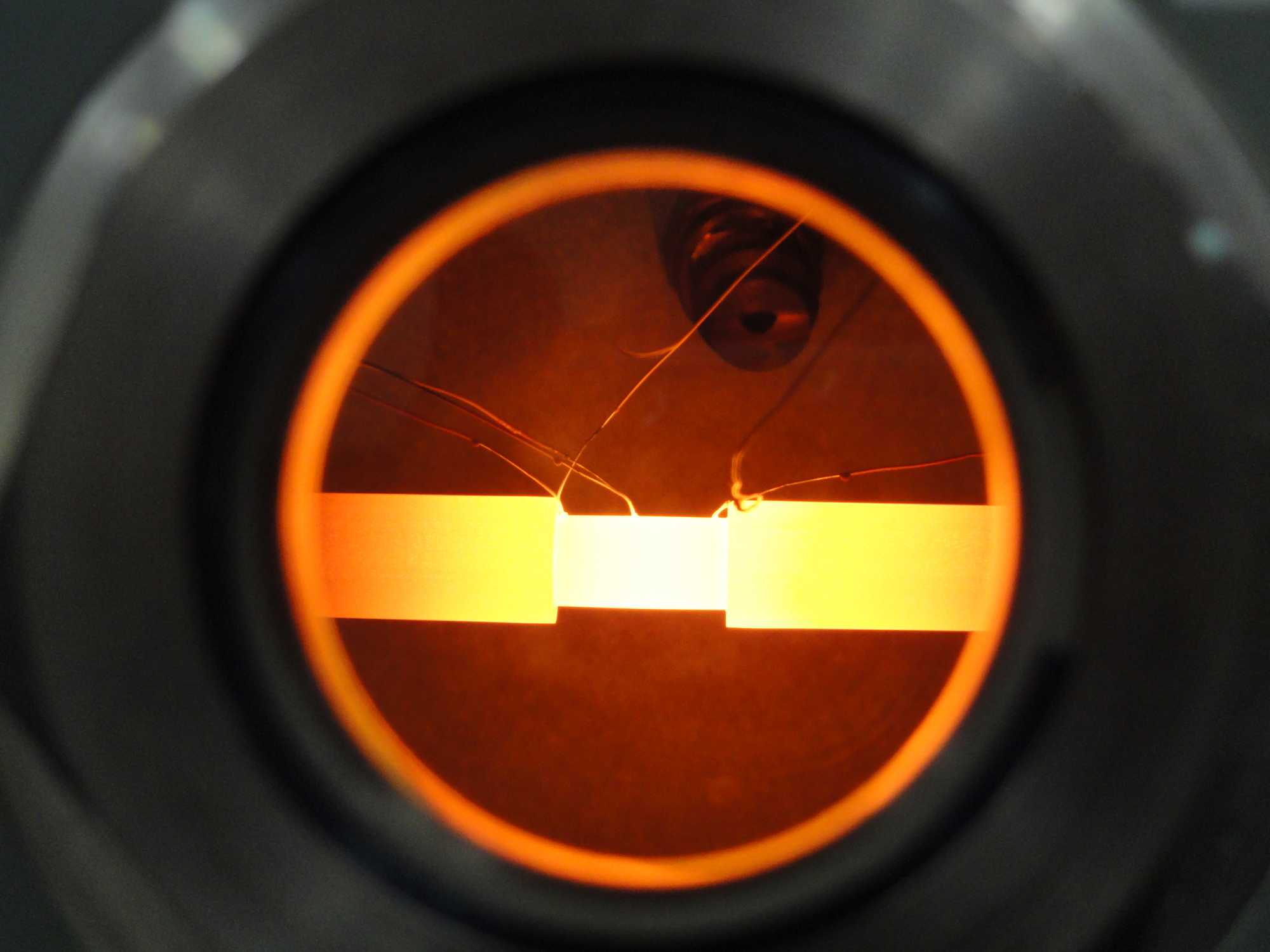 Congratulations to Dr. Vinod Kumar from the Steel Authority of India (SAIL) for winning an Apple iPod Shuffle in the first Gleeble photo contest that concluded in August. Dr. Kumar submitted this picture taken with a Sony digital camera of a carbon steel during a simulation on the Hot Torsion Mobile Conversion Unit that was installed recently in SAIL's R&D Centre.
Conference and Paper Solicitation Notices

In order to provide a platform for metallurgy and materials workers to exchange and study physics simulation technology and deeply grasp application skills of Gleeble thermal-mechanical simulation technology, "The First National Conference on Discussion of the Application of Material Physics Simulation Technology & Training for Gleeble Applications" will be held at Beijing University of Science and Technology From August 20th to 24th, 2012. It is organized by Efficient Rolling National Engineering Research Center of Beijing University of Science and Technology, Dynamic Systems Inc, USA, Material Calculation and Physical Simulation Academic Committee of Material Science Branch of CSM, and Material Branch of Chinese Mechanical Engineering Society. The meeting will invite domestic and foreign experts to give a special report about the status quo and the latest developments of the world's physics simulation technology, hold group meetings to communicate the applications of physical simulation technology on metal materials and thermal processes and give out special explanation and demonstration for application points, operating skills and common problems handles of Gleeble thermal simulation testing machine.

Conference Contact:
1. National Efficient Rolling Center of Beijing University of Science and Technology
Contact Person: Hu Shuiping
Tel:010-62332598-6250
Fax:010-62332947 Mobile:13611044910
Email Address: This email address is being protected from spambots. You need JavaScript enabled to view it.


2. DSI Shanghai Office
Contact Person: Shen Aiguo
Tel:021-63201865-22 Fax:021-63202100 Mobile:13386179353
Email Address: This email address is being protected from spambots. You need JavaScript enabled to view it.


3. Material Calculation and Physical Simulation Academic Committee of Material Science Branch of CSM
Contract Person: Wang Yuhui
Mobile:18630397227 Email Address: This email address is being protected from spambots. You need JavaScript enabled to view it.

会议暨论文征集告示

为了为广大冶金和材料工作者提供一个交流学习物理模拟技术和深入掌握Gleeble热力模拟技术应用技能的平台,北京科技大学高效轧制国家工程研究中心、美国Dynamic Systems Inc.、中国金属学会材料科学分会材料计算与模拟学术委员会及中国机械工程学会材料分会将于今年8月20日至24日在北京科技大学共同举办"第一届全国材料物理模拟技术应用研讨会暨Gleeble应用培训会"。会议将邀请国内外有关专家进行世界物理模拟技术的现状与最新发展的专题报告,分组开展金属材料和热加工物理模拟技术的应用交流,并就Gleeble 热力模拟试验机的应用要点、操作技巧及常见问题处理进行专门的讲解和示范。

会议即日起开始报名,报名截止时间为2012年6月30日,欢迎Gleeble新老客户及广大冶金和材料工作者踊跃报名参加。

会议联系方式:

1.

北京科技大学

国家高效轧制中心

胡水平

电话:010-62332598-6250 传真:010-62332947

手机:13611044910

Email地址: This email address is being protected from spambots. You need JavaScript enabled to view it.

2.

DSI

上海办事处

沈爱国

电话:021-63201865-22 传真:021-63202100

手机:13386179353

Email地址: This email address is being protected from spambots. You need JavaScript enabled to view it.

3.

中国金属学会材料科学分会材料计算与模拟学术委员会

王玉辉(秘书)

手机:18630397227

Email地址: This email address is being protected from spambots. You need JavaScript enabled to view it.